Customer Relationship Management (CRM) is a strategy that companies use to manage interactions with customers and potential customers. CRM helps organisations streamline processes, build customer relationships, increase sales, improve customer service, and increase profitability.
When people talk about CRM, they are usually referring to a CRM system, a tool that is used for contact management, sales management, productivity, and more. The goal of a CRM system is simple: Improve business relationships.
Dig into the details of CRM: Download the Complete CRM Handbook
DOWNLOAD NOW
What we will cover:
What do people mean when they say CRM?Why is CRM important?How do different business functions benefit from using CRM?What are the benefits of CRM?Why choose a cloud-based CRM system?What is CRM?: Key facts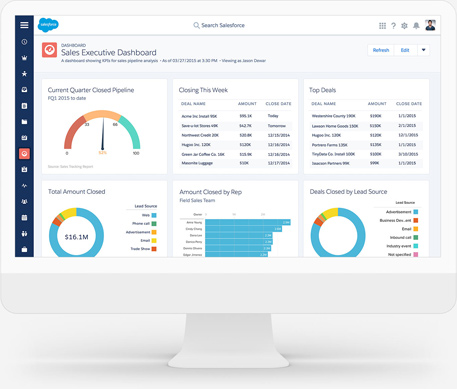 What do people mean when they say CRM?
CRM helps users focus on their organization's relationships with individual people including customers, service users, colleagues, or suppliers.
When people talk about CRM, they might mean any of three things:
CRM as Technology: This is a technology product, often in the cloud, that teams use to record, report and analyse interactions between the company and users. This is also called a CRM system or solution.
CRM as a Strategy: This is a business' philosophy about how relationships with customers and potential customers should be managed  
CRM as a Process: Think of this as a system a business adopts to nurture and manage those relationships.
What does CRM software do?
CRM software records customer contact information such as email, telephone, website social media profile, and more. It can also automatically pull in other information, such as recent news about the company's activity, and it can store details such as a client's personal preferences on communications.
The CRM system organizes this information to give you a complete record of individuals and companies, so you can better understand your relationship over time.
CRM software improves customer relationship management by creating a 360° view of the customer, capturing their interactions with the business, and by surfacing the information needed to have better conversations with customers. 
Let's start with the basics of CRM.
Use our learning platform to grasp the fundamentals behind CRM software, how businesses use it, and benefits it brings.GET STARTED WITH TRAILHEAD
Why is CRM important?
CRM enables a business to deepen its relationships with customers, service users, colleagues, partners and suppliers.
Forging good relationships and keeping track of prospects and customers is crucial for customer acquisition and retention, which is at the heart of a CRM's function. You can see everything in one place — a simple, customizable dashboard that can tell you a customer's previous history with you, the status of their orders, any outstanding customer service issues, and more.
Gartner predicts that by 2021, CRM technology will be the single largest revenue area of spending in enterprise software. If your business is going to last, you know that you need a strategy for the future. For forward-thinking businesses, CRM is the framework for that strategy.
How do different business functions benefit from using CRM?
While the importance of CRM has traditionally been as a sales and marketing tool, some of the biggest gains can come in other areas, such as customer service, HR, supply-chain and partner management.
Here's how different business functions benefit from using CRM:
Sales teams can use CRM to understand their sales pipeline better.
Sales managers can access reliable information about the progress of individual team members in achieving their sales targets, for example, and see how well individual sales teams, products and campaigns are performing too.
Sales reps benefit from reduced admin, a deeper understanding of their clients, and the opportunity to spend more time selling and less time inputting data.
Marketing teams can use CRM to make forecasting simpler and more accurate.
They can get clear visibility over every opportunity or lead, and map out the whole customer journey from enquiry through to sale, so giving them a  better understanding of the sales pipeline or prospective work coming in.
It's also possible to include information from customers' public social media activity – their likes and dislikes, and their sentiment about specific brands and businesses.
Customer service teams can effectively track conversations across channels.
A customer might raise an issue in one channel – say, Twitter or Facebook – but then switch to email, phone or live chat to resolve it in private.
Without a common platform for customer interactions, communications can be missed or lost in the flood of information – leading to an unsatisfactory response to a valued customer.
Supply-chain, procurement and partner management teams can manage relationships better.
They can track meetings with suppliers and partners, record requests made, add useful notes, schedule follow-ups and stay on top of expected next steps.
Reporting enables businesses to compare the efficiency of suppliers and so manage their entire supply chain more effectively.
The HR team can use CRM to accelerate the recruitment process and track employee performance.
CRM can help the HR function by speeding up the on-boarding process, automating the process of managing candidates, analysing resourcing needs and identifying skills gaps, and supporting the pursuit of staff retention targets.Think about how convenient it would be to consolidate all the streams of data coming from sales teams, customer service staff, marketers and social media—and translate them into actionable business information. A CRM platform lets you manage these streams of information across channels without losing track, and gives sales, service, marketing, and beyond an integrated view.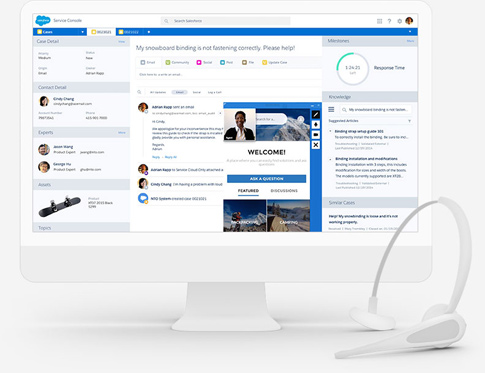 "How you gather, manage, and use information will determine whether you win or lose." BILL GATES
What are the benefits of CRM?
By collecting and organising data about customer interactions, making it accessible and actionable for all, and facilitating analysis of that data, CRM offers many benefits and advantages.
The benefits and advantages of CRM include:
1. Enhanced contact management 2. Cross-team collaboration 3. Heightened productivity 4. Empowered sales management 5. Accurate sales forecasting 6. Reliable reporting 7. Improved sales metrics 8. Increased customer satisfaction and retention 9. Boosted marketing ROI 10. Enriched products and services